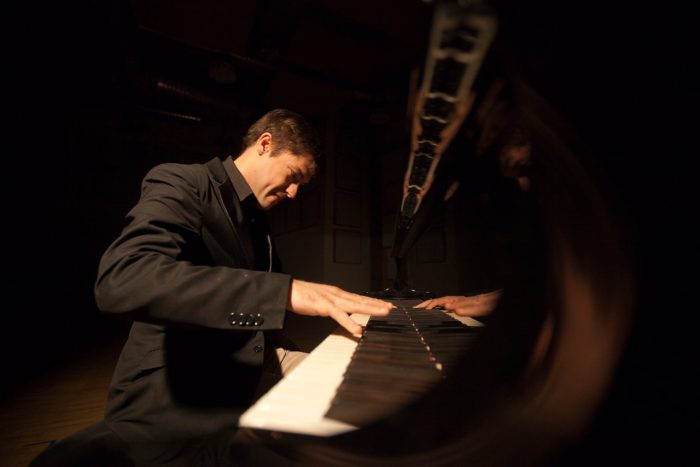 New York, NY
will travel to you please enquire.
Piano Lessons | Keyboard Lessons | Artist development, Aural Lessons, Ensemble Coaching, Theory Lessons, Composition Lessons, Jazz Improvisation Lessons, Online Lessons
---
Qualifications:

Master in Jazz Performance at Queens College

Pricing:

60USD kids - 100USD adults per lesson

Styles:

Oscar Peterson style, Bill Evans Style, Red Garland Style Voicing and phrasing. Bossa Nova, Swing and Jazz Traditional

Suitability:

5 to 70 from beginner to advanced
---
Bio
Alberto Pibiri's is an italian jazz musician based in New York. He Formed his experience between Italy and France  studing classical and jazz music. During his Study he became attracted by the music of Oscar Peterson who his records became the reference and example for Alberto. In the early years Alberto did many concert and festival with his trio featuring Oscar Peterson`s music and Alberto`s creativity tell some Sun Set Subside , Duc De Lombards (France ) Calagonone Jazz Festival , Time in Jazz,Orsara Jazz Festival ( Italy ).
In France he started to collaborate with Sheila Jordan during her workshop and she became the main mentor for him and a dear friend.She Propose to be the sponsor for his Artist Visa to come and perform in USA , and that was Alberto`s dream since his childhood.In New York he start work with many important jazz musician on the scene like Dave Stryker ,Sheila Jordan ,Enrico Granafei , Marco Panascia , Harry Allen , Essiet Essiet ,Les DeMerle to tell a few.With Dave Stryker  he made his first record with Dave Stryker called NYC produced by Strykezone records , the album has been presented in many club like Trumpets Jazz Club ,Smalls and Fat Cat .The  album draws the attention of another mentor Monty Alexander who will invite Alberto to play for his festival Monty Alexander Jazz Festival on Sep 2015 .After his first album NYC he record as a sideman with many international musicians  :  "Yearning " with Magda Bozyk in Poland "Tosti Today " with Nicoletta Castacrane , "I n the name of love " with Valentina Marino on Jazzheads  Records, "Swing it out"  with  Professor Cunningham and his old school for  Arbor Records. Winner as the best Rhythm Section with Professor Cunningham and his old school at the WorldJam in Madrid on October 2016. With Adrian Cunningham Alberto had the premier at Carnegie Hall and have a tour in Australia this year to play at Melbourne International Jazz Festival on June  2017 between Sydney and Melbourne.He recorded on December 2016 the second album called Jazz Legacy , consist in 10 original songs , with lots of special guest like Sheila Jordan, Jay Clayton, Miriam Waks, Dave Stryker  and Adrian Cunningham. This album take the attention to Shelly Leibowitz CEO of SRI Records who propose to Alberto a recording contract with SRI Records .Now the Album is worldwide distributed  by SRI Record. Inspired by the music of Herb Alpert in 2019 Alberto Pibiri records his new project called Alberto Pibiri &The Al Peppers- The Nachos Blues an album full of original songs and covers revisited in the style of Herb Alpert. The record had great success on the radio and see the band perform in many different areas in New York City. At same time he is sideman of the band lead by Adrian Cunningham called "Professor Cunningham and his old School" with who he travels in different part of the States play for different festival like SunCoast Jazz Festival, Sun Valley Jazz Festival and recording several albums under Arbors Record.  He co-produced with his lovely wife a duet album called "So Many Stars", a lovely collection of song that feature him on piano and the wonderful vocalist Miriam Waks. In the past years Alberto Pibiri studied at William Paterson for one Year with Harold Mabern, Aaron Goldberg and many other great jazz musician until now when he finished his Master at Queens College.
---
Teaching Info
Piano: From the basic fundamentals to the most advanced technic. I teach from the age to 4 to adults. I can teach how to read music and how to improvise. I can teach how create an original song  and how develop your own style. I have been working professionally for over 30 years and lived between Italy, France and now USA. Lesson will have a fun approach as music is fun. Let's enjoy it 🙂
Jazz: Learn the basic Harmony and rhythmic concept of improvisation with ear training and theory and most important listening, I'll guide your instinct with good advice and nice tip to progress this adventure. Jazz is all about discover yourself musically.