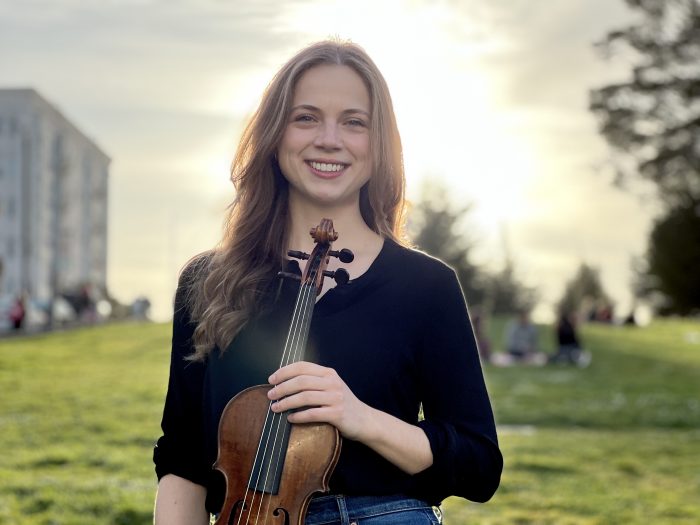 Washington Heights, Manhattan, New York, NY
will travel to you please enquire.
Violin Lessons | Ensemble Coaching, Online Lessons
---
Qualifications:

The Juilliard School, San Francisco Conservatory of Music, Oberlin Conservatory

Pricing:

80/hr; 65/45 minutes; 45; 30 minutes

Styles:

Classical, Historical Performance

Suitability:

Beginning - Intermediate/Advanced
---
Bio
German-American violinist Annemarie Schubert began her musical studies at the Musikschule "Johann Sebastian Bach" at the age of 6 in Leipzig, Germany. After moving to the United States in 2006, she continued studying the violin and made her debut at the Lied Center for the Performing Arts at age 12. She appeared as a soloist with the Lincoln Youth Symphony both in the US and abroad as a winner of the Concerto Competition in 2016. 
Annemarie graduated from the Oberlin College and Conservatory in 2021 and holds dual Bachelor's degrees in Violin Performance and Neuroscience. She recently completed a Master's of Music at the San Francisco Conservatory of Music under Prof. Simon James. Annemarie has served as the concertmaster of the Oberlin Orchestra, Oberlin Chamber Orchestra, Oberlin Contemporary Ensemble, and the San Francisco Conservatory Orchestra. During her undergraduate study with Prof. Marilyn McDonald, Annemarie discovered a keen interest in historical performance and chamber music. She was a featured soloist and concertmaster of the Oberlin Baroque Ensemble on several occasions and traveled with the ensemble to perform at the Early Music Festival in Bloomington, Indiana. Most recently, she performed Bach's Concerto No. 1 in a minor with the San Francisco Conservatory Baroque Ensemble as a winner of the Historical Performance Concerto Competition. She is now continuing her studies at the Juilliard School.
Annemarie is a member of several focused chamber ensembles, including the historical performance Trio 430 with Luka Stefanoviç, cello, and Zuguang Xiao, fortepiano, with whom she has extensively studied the classical and early romantic repertoire for piano trio on period instruments. Additionally, she is a member of the Bristol String Quartet, formed at Oberlin in 2018, with which she has performed in various venues throughout the northeastern United States, most recently performing a concert cycle in New York City. The quartet places specific emphasis on taking the string quartet to non-traditional venues and plays a mixture of classical, folk, and popular tunes. She is also a member of the San Francisco based Rosetta Trio, alongside fellow SFCM alums Clayton Luckadoo, clarinet, and Connor Buckley, piano. 
In past summers, Annemarie has been awarded a Fellowship to the Aspen Music Festival and School and been an Academy member in the Lucerne Festival Contemporary Orchestra. Most recently she performed several world premieres with saxophonist Chris Potter in San Francisco, served as concertmaster of the JSBEnsemble of the International Bachakademie in Stuttgart, Germany, and was a featured soloist with Enrico Gatti and ARTEK in New York. In her free time, Annemarie enjoys finding new pastry shops, walking in the park, and sitting on the floor – the superior lounging location. 
---
Teaching Info
My goal for every student is to unlock technical and musical excellence while maintaining a positive learning environment. Learning an instrument is hard work, but I believe that challenges can be met with discipline and self-confidence. Every student is different, and I strive to create an individual approach for everyone that allows the student to feel empowered to use their tools for success.
I have 10+ years of experience teaching students of all ages and have worked as a teaching assistant at several organizations – including youth orchestras and local string seminars. My teaching style incorporates the Suzuki Method, the Zweig String Pedagogy, the Simon James approach, and recent neuro-developmental research.