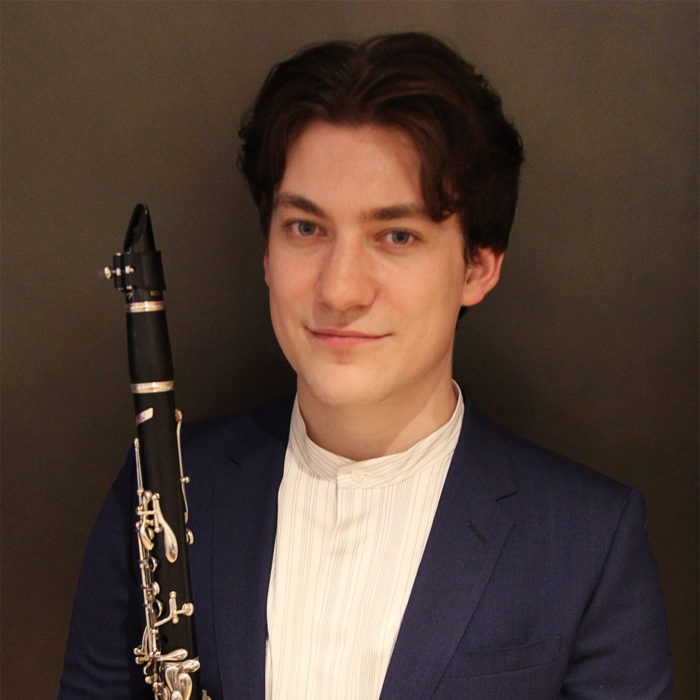 New York, NY 10017
Clarinet Lessons | Theory Lessons
---
Qualifications:

Master of Music, Mannes School of Music; Bachelor of Music, Rowan University; Clarinet teacher since 2013

Pricing:

$100 per hour, $80 per 3/4 hour. $60 per 1/2 hour

Styles:

Classical

Suitability:

Beginners through advanced students of all ages.
---
Bio
Award-winning clarinetist Dylan James has performed nationally with various orchestras and ensembles, including a sold-out performance with Yo-Yo Ma and The Silk Road Ensemble and with orchestras at the Chautauqua Institution Music Festival, Miami Music Festival, National Music Festival, National Symphony Orchestra Summer Music Institute, and Northern Lights Music Festival. Twice a winner of the Rowan Soloists' Competition, Dylan has performed as soloist with the Rowan University Wind Ensemble and the Rowan University Orchestra, in addition to the Rowan University String Ensemble, Northern Lights Festival Orchestra, and the Philharmonic of Southern New Jersey. Dylan is a past winner of the Clifton Foundation's Emerging Artist Award and was also honored with an Undergraduate Scholar Award through the Presser Foundation. He is a member of the national music Honor Society Pi Kappa Lambda.
A versatile and practical clarinet instructor, Dylan is committed to helping students identify and reach their own musical goals while developing healthy practice habits. He is enthusiastic about working with elementary and advanced students alike and prioritizes building a solid technical foundation through the study of the clarinet repertoire across time periods and genres. He incorporates music theory and other topics in lessons and encourages students to take advantage of musical opportunities outside of lessons; he has prepared students to successfully take part in auditions for regional and statewide ensemble festivals as well as youth orchestras and summer programs.
Dylan holds a degrees from Mannes School of Music (Master of Music) and Rowan University (Bachelor of Music). His principal teachers include Rié Suzuki, Anton Rist, and Charles Neidich. Dylan James is currently on the Clarinet Faculty of Mannes Prep.
To learn more, please visit www.dylanjamesclarinet.com.
---
Teaching Info
My goal as a clarinet teacher is to bring the very best out of my students and open their minds and ears to the world of clarinet as it pertains to classical music. I am just as enthusiastic, and equipped, to teach a beginner clarinet student as I am to teach a senior in high school preparing for college admission auditions. I stress building a solid foundation and developing a proper embouchure in addition to learning repertoire and taking auditions for school programs, regional/state band and orchestra festivals, youth orchestras, and more. A typical curriculum for my students consists of a method book, etude book, scales, and 1-3 solo pieces.
In addition to providing the highest level of clarinet instruction, it is also important for me to provide an accessible clarinet education. It is an unfortunate truth that studying music at a high level is traditionally expensive and it is a mission of mine to break down the barriers that financially disadvantaged families face when seeking to provide their children with private music lessons and a well-rounded education as a whole. I aim to be available and a guiding source for such students that want to make music, and specifically clarinet, part of their lives for any reason.
I believe that when introduced to the study of classical music, individuals have the opportunity to connect with their artistry, individuality, discipline, and perceptivity. The growth of these personal attributes in my students is something I cherish as an educator and is something that I hope to share with more families of prospective students. This is, to me, what makes music wholly unique and worthy of study.