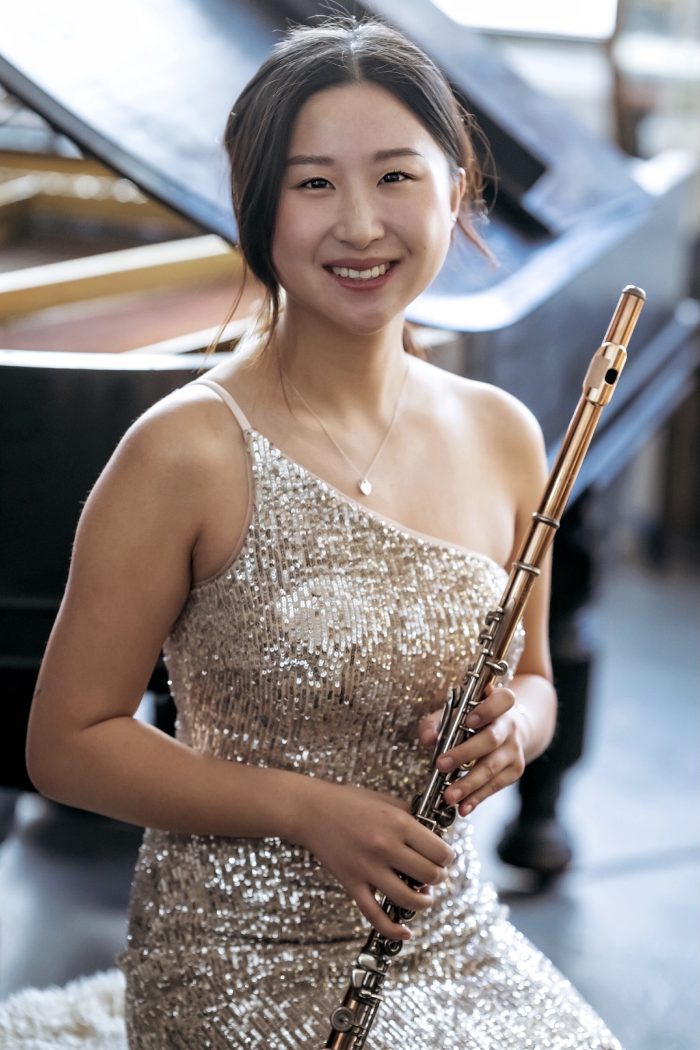 541 West 156th Street, New York, NY
will travel to you please enquire.
Flute Lessons | Ensemble Coaching, Online Lessons
---
Qualifications:

Master of Music - Manhattan School of Music; Bachelor of Music (Honors) - University of Auckland

Pricing:

$60 for 30 mins; $110 for 60 mins

Styles:

Classical, Contemporary Classical

Suitability:

Intermediate and advanced students - depending on the ability anywhere from 12 up
---
Bio
Often humorously likened to an inflatable tube man onstage because of her enthusiasm, passion, and physicality, all flutist and multi-disciplinary artist Eva Ding ever wants to do is imbue in her audience the same sense of joy and richness the performing arts brings to her. Everchanging and growing in her passions and craft, Eva most recently gave an online talk for Crushing The Myth – a TED-talk-styled Asian-American speaker series – and is currently working on creating interactive, interdisciplinary works that meld together her passions for music, theater, and film.
Eva made her concerto debut when she was 14 at the Meet in Beijing Festival. In 2017, Eva made her New York concerto debut with the Brooklyn Metro Chamber Orchestra and has given premiere performances of Tailleferre's "Concertino" in New York and a new, orchestral arrangement of Claude Bolling's "Suite for Flute and Jazz Trio" in New Zealand. An avid proponent of contemporary music, Eva also gave the New Zealand premiere performance of "The Golden Flute" Concerto by Chinese-American composer Chen Yi to a full house at the Auckland Town Hall in 2016. Her most interesting gig to date, however, has to have been when she was the opening musical number for pro-wrestler, Orange Cassidy, at Independent Wrestling TV's "Family Reunion" match.
During the summer of 2019 Eva was an artist-in-residence with the Caroga Arts Collective and performed alongside soloists from the Metropolitan Opera at the Maverick Concert Series in Upstate New York. Having performed with the United Nations Chamber Music Society, Auckland Philharmonia Orchestra, Auckland Chamber Orchestra, and Brooklyn Metro Chamber Orchestra, she is also an accomplished ensemble musician.
In recognition of her potential as a performer, she has received accolades and fellowships from the New York Foundation for the Arts, New Zealand Symphony, Chamber Music New Zealand, and the Performing Arts Competitions Association of New Zealand. Eva was recognized as Auckland Philharmonia Orchestra's 2017 Young Soloist of the Year, is a current fellow of bespoken NYC, and grant recipient of Chamber Music American's Ensemble Forward program funded by The New York Community Trust
Eva is Shanghai-born, Auckland-raised, and New York-based. She received the Manhattan School of Music President's Scholarship and completed a Master of Music with Robert Langevin, Principal Flute of the New York Philharmonic. Prior to that, she gained her Bachelor of Music with First Class Honors from the University of Auckland, under the tutelage of Professor Uwe Grodd.
In her spare time, Eva plays with her poodle Chocco, who adores singing along to her flute practice.
---
Teaching Info
I have a varied knowledge of not only classical flute playing but also musicianship, artistry, contemporary/21st-century classical and crossover music, and ensemble playing and I hope to be able to impart that onto others.
From my time under the tutelage of Robert Langevin at the Manhattan School of Music, I've come to really understand and respect structure and technical prowess so my lessons will always involve some form of scales and etudes. However, I also know that most importantly music making should be full of joy and passion so I'm always flexible to the student's needs.
The chamber groups I've coached have gone on to win regional and national awards and I hope to be able to help my individual students achieve great heights!