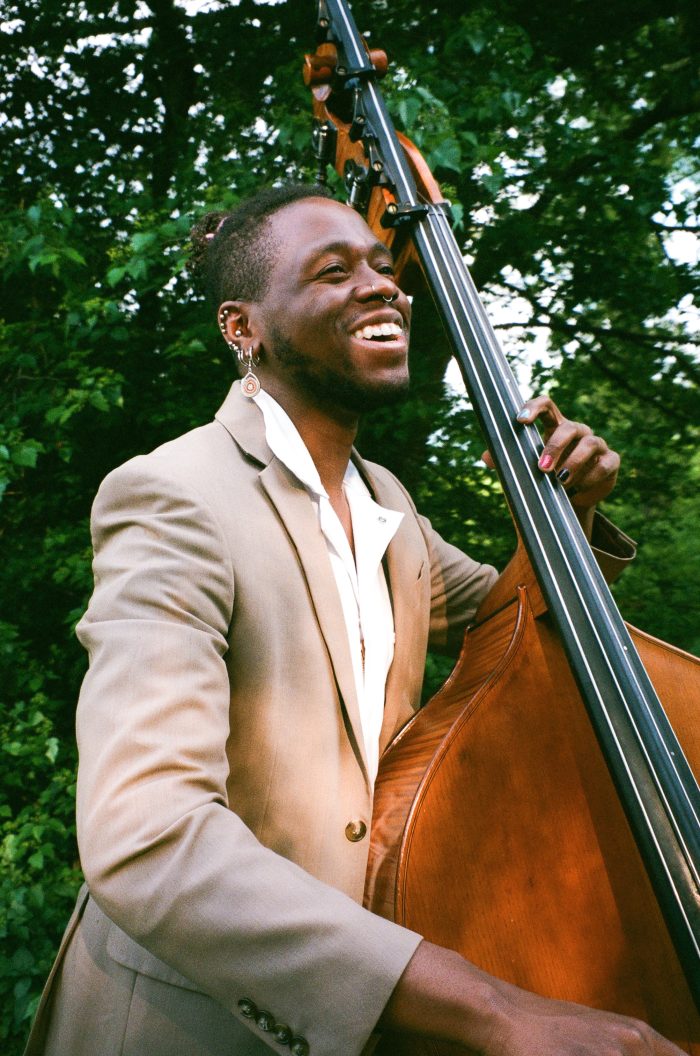 Amsterdam Av/W 75 St, New York, NY 10023
will travel to you please enquire.
Double Bass Lessons | Cello Lessons, Keyboard Lessons, Piano Lessons, Violin Lessons, Viola Lessons | Aural Lessons, Ensemble Coaching, Song Writing Workshops, Theory Lessons, Composition Lessons, Jazz Improvisation Lessons, Music And Movement For Under Fives, Online Lessons
---
Qualifications:

I received my Masters Degree in Double Bass Performance from the Juilliard School in 2022 and my Undergraduate degree from the New England Conservatory in 2020. I currently perform as a Concerto Solo-Bassist, perform my compositions with orchestra, and play in orchestras like the Knights and New York Ballet.

Pricing:

I work on a sliding scale.

Styles:

I am fluent in a multitude of styles with a focus in technique and results based lessons. When you take a lesson with me you will advance.

Suitability:

All ages and levels.
---
Bio
With outstanding virtuosity and the rare ability to communicate their ideas effortlessly to audiences, Kebra is poised to be a leader of their generation. After winning first prize in the 2022 Sphinx Competition, Kebra-Seyoun Charles has quickly made a name for themself by soloing in front of orchestras such as the New World Symphony, Indianapolis Symphony, and PalaverStrings.
Originally from Miami, Florida, Kebra received their Bachelor's degree from the New England Conservatory of Music. Then, in 2022, graduated from the Juilliard School with a Master's degree, at the beginning of which they were awarded tenure as principal bass. Kebra simultaneously received the prestigious Jerome L. Greene fellowship. In recognition of their talent and commitment to furthering their vision as a soloist, Kebra received Juilliard's Benzaquen Career Grant.
Growing up the child of an African drummer and dancer, Kebra-Seyoun was exposed to music at a very early age. Having been steeped in jazz, gospel, and traditional African music, Kebra developed an interest in a multiplicity of genres. In their early years, Kebra-Seyoun was invited to perform at the Kagoshima Jazz Festival as well as the Aspen Music Festival and School.
In line with their upbringing, Kebra-Seyoun is able to give prominence to the dance qualities in all forms of music. Exhibiting their versatility, Kebra-Seyoun has performed alongside esteemed improvisers and composers such as Jon Batiste, at Carnegie Hall, and Tyshawn Sorey, at the New England Conservatory. Kebra-Seyoun was also featured in "Slugs' Saloon" at the Institute of
Contemporary Art in Boston, an interactive installation created by famed jazz musician and composer Jason Moran. Currently, in addition to their solo career, Kebra-Seyoun Charles is a passionate chamber musician. Playing with groups like East Coast Chamber Orchestra, A Far Cry, Palaver Strings, and the Sphinx Virtuosi afford Kebra the opportunity to showcase their musicianship while still
playing within an ensemble. A prime example of this is their tenure on the 2019 Emmy award-winning Broadway production "Hadestown".
In 2016 and 2019 Kebra-Seyoun Charles was the winner of the Boston Philharmonic Orchestra's concerto competition. Kebra was also the winner of the NAACP's 2016 ACT-SO concerto competition, the 2021 Southern Illinois Young Artist Competition, and the 2021 International Music Organization competition. They have also been featured by National Arts Club, Performance
Today, YoungArts, From the Top, Bass Players for Black Composers, the American Music Talent competition, and the National Library of Congress. From 2016-2020, they were the principal of the Boston Philharmonic Youth Orchestra's double bass section. This included performances in Boston's Symphony Hall, Harvard's Sanders Theatre, Vienna's Mozarteum, Berlin's
Konzerthaus, and Amsterdam's Concertgebouw. Kebra-Seyoun has thrice played as a fellow of the Tanglewood Music Center Orchestra.
As if this weren't enough, they also have 32 piercings
---
Teaching Info
I work with each student according to their goals and aspirations. I believe each student is unique and it is my aspiration as a teacher to help them see tangible improvements in each lesson.
As a composer, I often write etudes and exercises tailored to each student's desired area of growth.